And on to round two of Down the TBR Hole (
thanks again Lia!
) Most of these are random things I got for free on Kindle, soooo I have the feeling I'll actually make more progress than I did with last week's measly 1/5 (2/6? I don't know? Help?).
6. The Dark Citadel Omnibus, by Michael Wallace
The Dark Citadel: When a dark wizard takes control of Balsalom and forces young queen Kallia into marriage, slave boy Darik bands with griffin riders and knights to defend their city.
The Free Kingdoms: The Dark Wizard marches against the Free Kingdoms while a wizard, warrior prince, and a freed slave boy mount a heroic defense. A young queen struggles behind enemy lines to keep her city free from the enemy's grasp.
The Golden Griffin: The dark wizard's dragons attack the griffin riders in their aeries. With her father dead, the young leader of the griffin riders must venture into the northern wilds to tame the powerful and elusive golden griffin. If she fails, her people will be scattered and destroyed.
Ah, let's hearken back to the days where Katie had a brand-new first gen Kindle Paperwhite and went a little bit overboard on all the free fantasy books that ended up… well, needless to say, horribly.
Go. 
7. The Waiting Booth, by Brinda Berry
Average student, expert gamer, rookie portal locator…
Mia has one goal for her senior year at Whispering Woods High—find her missing older brother. But when her science project reveals a portal into another dimension, she learns that travelers are moving in and out of her woods in the most alarming way and government agents Regulus and Arizona are policing their immigration. Mia's drawn to the mysterious, aloof Regulus, but it's no time for a crush. She needs to find out what they know about her brother, while the agents fight to save the world from viral contamination. But when Regulus reveals that he knows Mia's secrets, she begins to wonder if there's more going on than she thought…and if she was wrong to trust him…
Ehhh… also another free ebook, but I'm not entirely sure what I was thinking. Probably from my two-day paranormal phase a few years ago. I don't really want to know why I have this.
I did try to read this a while back, but I didn't get too far. I'll just take it off and be done with it.
8. Now I Rise, by Kiersten White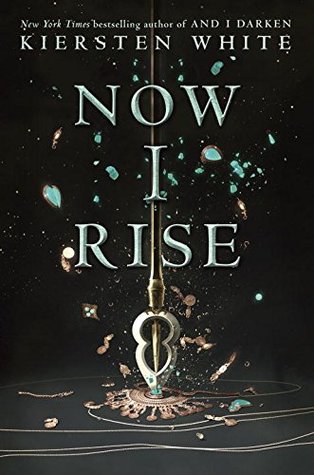 She has no allies. No throne. All she has is what she's always had: herself.
After failing to secure the Wallachian throne, Lada Dracul is out to punish anyone who dares to cross her blood-strewn path. Filled with a white-hot rage, she storms the countryside with her men, accompanied by her childhood friend Bogdan, terrorizing the land. But brute force isn't getting Lada what she wants. And thinking of Mehmed brings little comfort to her thorny heart. There's no time to wonder whether he still thinks about her, even loves her. She left him before he could leave her.
What Lada needs is her younger brother Radu's subtlety and skill. But Mehmed has sent him to Constantinople—and it's no diplomatic mission. Mehmed wants control of the city, and Radu has earned an unwanted place as a double-crossing spy behind enemy lines. Radu longs for his sister's fierce confidence—but for the first time in his life, he rejects her unexpected plea for help. Torn between loyalties to faith, to the Ottomans, and to Mehmed, he knows he owes Lada nothing. If she dies, he could never forgive himself—but if he fails in Constantinople, will Mehmed ever forgive him?
As nations fall around them, the Dracul siblings must decide: what will they sacrifice to fulfill their destinies? Empires will topple, thrones will be won…and souls will be lost. 
Hahahahaha keep why is this even a question??? I adoooored And I Darken (it's genderbent Vlad the Impaler, if you haven't heard of it) and preordered this one so *desperately needs*
Honestly, I need to reread and write a review of And I Darken. It's too glorious.
9. Outrun the Moon, by Stacey Lee
San Francisco, 1906: Fifteen-year-old Mercy Wong is determined to break from the poverty in Chinatown, and an education at St. Clare's School for Girls is her best hope. Although St. Clare's is off-limits to all but the wealthiest white girls, Mercy gains admittance through a mix of cunning and a little bribery, only to discover that getting in was the easiest part. Not to be undone by a bunch of spoiled heiresses, Mercy stands strong—until disaster strikes.
On April 18, a historic earthquake rocks San Francisco, destroying Mercy's home and school. With martial law in effect, she is forced to wait with her classmates for their families in a temporary park encampment. Though fires might rage, and the city may be in shambles, Mercy can't sit by while they wait for the army to bring help—she still has the "bossy" cheeks that mark her as someone who gets things done. But what can one teenage girl do to heal so many suffering in her broken city?
Ah, honestly I'm not sure what to do with this book. I used to be really into historical fiction, so maybe that's why I added it? But it's also got some really good reviews from fellow fantasy/sci-fi people, so maybe I should give it a try?
I'll keep it for now, but we'll have to see where that goes.
10. Vassa in the Night, by Sarah Porter
In the enchanted kingdom of Brooklyn, the fashionable people put on cute shoes, go to parties in warehouses, drink on rooftops at sunset, and tell themselves they've arrived. A whole lot of Brooklyn is like that now—but not Vassa's working-class neighborhood.
In Vassa's neighborhood, where she lives with her stepmother and bickering stepsisters, one might stumble onto magic, but stumbling away again could become an issue. Babs Yagg, the owner of the local convenience store, has a policy of beheading shoplifters—and sometimes innocent shoppers as well. So when Vassa's stepsister sends her out for light bulbs in the middle of night, she knows it could easily become a suicide mission.
But Vassa has a bit of luck hidden in her pocket, a gift from her dead mother. Erg is a tough-talking wooden doll with sticky fingers, a bottomless stomach, and a ferocious cunning. With Erg's help, Vassa just might be able to break the witch's curse and free her Brooklyn neighborhood. But Babs won't be playing fair…
You know how you cycle through various reading moods? Like, you read a lot of contemporary, then you might have some Red Rising-esque sci-fi, then perhaps switch to a complete reread of everything by Victoria Schwab? Well, I've got a Russian folklore retelling mood. And I have a few of those on my physical TBR right now, sooooo…. *aggressively keeps*
---
Er, I made it to 2/5 today? Maybe it'll just keep increasing and I can start eliminating more… or maybe I'm not hard enough on the books? What do you think? Are you trying to bring your TBR down (or at least slow the accumulation)? I think that for every one I take off the list, three more take its place.
TBRs are actually hydras okay they grow exponentially and try to kill you repeatedly.
Oh, and in other bookish news, while around small children today I heard one of them loudly proclaim "Books have feelings too!" and my hope in the next generation is strong indeed.
How's your week been? What are you reading right now? Have you read any of the books up there? Did I make the right choices? Anything I should add to my TBR (because I know, right, brilliant idea)?