I feel like I'm slowly making progress, but it's just that- slowly. For every book I take off, I add three more.
But you know what? I don't really care, at this point. I'm taking off books that aren't as interesting to me anymore (or books with issues I was previously unaware of) and adding ones that I'll (hopefully) actually enjoy. And it's satisfying to hit the 'Remove book from shelf' button. So, week ten, and Down the TBR Hole continues.
Can you believe we've been doing this for near a quarter of a year? Neither can I.
45. Silent, by David Mellon
For fans of The Book Thief and Raiders of the Lost Ark, this thrilling new novel set during World War I features a girl who must pretend to be a male soldier to save her younger brothers.
Adi is an outrider, rejected by both her British father's and Indian mother's cultures, so she is no stranger to trouble. But when a mysterious agitator called "Coal" kidnaps Adi's twin brothers, Adi has to rely on herself to find them. With strength and cunning as fierce as any boy's, she decides to cut her hair and put on a military uniform to slip unnoticed through the chaos of the early days of World War I. When Adi finds a pocket watch that could be the clue to her lost brothers, she must figure out a way to decode it—before time runs out.
Looks interesting, but… eh. Falls a bit flat, now. Perhaps I'll add it back later, but for now it'll be a no.
46. The Orphan Queen, by Jodi Meadows
Wilhelmina has a hundred identities.
She is a princess. When the Indigo Kingdom conquered her homeland, Wilhelmina and other orphaned children of nobility were taken to Skyvale, the Indigo Kingdom's capital. Ten years later, they are the Ospreys, experts at stealth and theft. With them, Wilhelmina means to take back her throne.
She is a spy. Wil and her best friend, Melanie, infiltrate Skyvale Palace to study their foes. They assume the identities of nobles from a wraith-fallen kingdom, but enemies fill the palace, and Melanie's behavior grows suspicious. With Osprey missions becoming increasingly dangerous and their leader more unstable, Wil can't trust anyone.
She is a threat. Wraith is the toxic by-product of magic, and for a century using magic has been forbidden. Still the wraith pours across the continent, reshaping the land and animals into fresh horrors. Soon it will reach the Indigo Kingdom. Wilhelmina's magic might be the key to stopping the wraith, but if the vigilante Black Knife discovers Wil's magic, she will vanish like all the others.
Jodi Meadows introduces a vivid new fantasy full of intrigue, romance, dangerous magic, and one girl's battle to reclaim her place in the world.
If you don't know Jodi Meadows, follow her on some sort of social media now. She cowrote My Lady Jane, which you may know, and aspires to be Ferret Queen (if not altogether a ferret) and spins her own yarn and knits and is an all-around wonderful human being.
All this to say yes, of course. Keep.
47. Scythe, by Neal Shusterman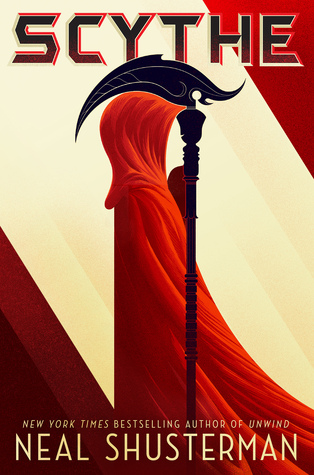 Thou shalt kill.
A world with no hunger, no disease, no war, no misery. Humanity has conquered all those things, and has even conquered death. Now scythes are the only ones who can end life—and they are commanded to do so, in order to keep the size of the population under control.
Citra and Rowan are chosen to apprentice to a scythe—a role that neither wants. These teens must master the "art" of taking life, knowing that the consequence of failure could mean losing their own.
I own this plus do you see that summary? It just sounds brilliant. Keep.
48. One Dark Throne, by Kendare Blake
The battle for the Crown has begun, but which of the three sisters will prevail?
With the unforgettable events of the Quickening behind them and the Ascension Year underway, all bets are off. Katharine, once the weak and feeble sister, is stronger than ever before. Arsinoe, after discovering the truth about her powers, must figure out how to make her secret talent work in her favor without anyone finding out. And Mirabella, once thought to be the strongest sister of all and the certain Queen Crowned, faces attacks like never before—ones that put those around her in danger she can't seem to prevent.
In this enthralling sequel to Kendare Blake's New York Times bestselling Three Dark Crowns, Fennbirn's deadliest queens must face the one thing standing in their way of the crown: each other.
OK BUT YES. A THOUSAND TIMES YES.
49. Winterspell, by Claire Legrand
The clock chimes midnight, a curse breaks, and a girl meets a prince…but what follows is not all sweetness and sugarplums.
New York City, 1899. Clara Stole, the mayor's ever-proper daughter, leads a double life. Since her mother's murder, she has secretly trained in self-defense with the mysterious Drosselmeyer.
Then, on Christmas Eve, disaster strikes.
Her home is destroyed, her father abducted—by beings distinctly not human. To find him, Clara journeys to the war-ravaged land of Cane. Her only companion is the dethroned prince Nicholas, bound by a wicked curse. If they're to survive, Clara has no choice but to trust him, but his haunted eyes burn with secrets—and a need she can't define. With the dangerous, seductive faery queen Anise hunting them, Clara soon realizes she won't leave Cane unscathed—if she leaves at all.
Inspired by The Nutcracker, Winterspell is a dark, timeless fairy tale about love and war, longing and loneliness, and a girl who must learn to live without fear.
Uhhhh no. From reviews I've read, there seems to be a lot of weirdness going on in here. Not that that's a problem for me normally (I actually like some kinds of weird, most of the time), but the weirdness that I'm hearing about? Hahahahahaha nope.
---
Only two this week, but STILL. Progress. It's something, and that's good.