Well then. This may need to be a quick post thanks to my studenting work picking up, but let's see how many books we can knock off of the list.
For those of you who may be new here, Down the TBR Hole is a tag started by Lia from Lost in a Story in order to help whittle down Goodreads TBR lists- the notorious to-read shelf. I've been taking five books every week, posting their cover and synopsis, and then deciding whether or not I'm still interested in reading it. So far I've taken off maybe… fifteen twenty? Of the fifty or so books looked at.
On to the selection.
50. If Birds Fly Back, by Carlie Sorosiak
A sparkling debut about love, family, and the mysteries of the universe.
Linny has been fascinated by disappearances, ever since her sister Grace ran away in the middle of the night without saying goodbye.
Sebastian can tell you how many galaxies there are, and knows how much plutonium weighs. But the one thing he can't figure out is the identity of his birth father. 
They've never met, but Linny and Sebastian have one thing in common: an obsession with famous novelist and filmmaker Alvaro Herrera, who went missing three years ago and has just reappeared. As they learn more about the mystery of Alvaro, Linny and Sebastian uncover the answers they've been searching for.
This reminds me a lot of Words in Deep Blue (which happens to be a Down The TBR Hole book that I read and adored), which is funny because the plots… aren't all that similar. Regardless, it seems adorable and something I should definitely read closer to the wintertime. Keep.
51. The Sandcastle Empire, by Kayla. Olsen
Before the war, Eden's life was easy—air conditioning, ice cream, long days at the beach. Then the revolution happened, and everything changed.
Now a powerful group called the Wolfpack controls the earth and its resources. Eden has lost everything to them. They killed her family and her friends, destroyed her home, and imprisoned her. But Eden refuses to die by their hands. She knows the coordinates to the only neutral ground left in the world, a place called Sanctuary Island, and she is desperate to escape to its shores.
Eden finally reaches the island and meets others resistant to the Wolves—but the solace is short-lived when one of Eden's new friends goes missing. Braving the jungle in search of their lost ally, they quickly discover Sanctuary is filled with lethal traps and an enemy they never expected.
This island might be deadlier than the world Eden left behind, but surviving it is the only thing that stands between her and freedom. 
Does anyone else notice that she's named Eden? Like the Garden of Eden?
Probably. Don't mind me.
But honestly, it doesn't really seem all that much like something I might like. I'll take it off for now, though I might add it back later.
52. Dress Codes for Small Towns, by Courtney C. Stevens
As the tomboy daughter of the town's preacher, Billie McCaffrey has always struggled with fitting the mold of what everyone says she should be. She'd rather wear sweats, build furniture, and get into trouble with her solid group of friends: Woods, Mash, Davey, Fifty, and Janie Lee.
But when Janie Lee confesses to Billie that she's in love with Woods, Billie's filled with a nagging sadness as she realizes that she is also in love with Woods…and maybe with Janie Lee, too.
Always considered "one of the guys," Billie doesn't want anyone slapping a label on her sexuality before she can understand it herself. So she keeps her conflicting feelings to herself, for fear of ruining the group dynamic. Except it's not just about keeping the peace, it's about understanding love on her terms—this thing that has always been defined as a boy and a girl falling in love and living happily ever after. For Billie—a box-defying dynamo—it's not that simple.
…Hmm. Reading more reviews, it looks like she's genderfluid in a small town, which can't be the easiest- so I feel bad when I say that I'm just not that interested in it anymore. I guess it'll be the same as it was with The Sandcastle Empire– I'll take it off, but tentatively.
53. Unwind, by Neal Shusterman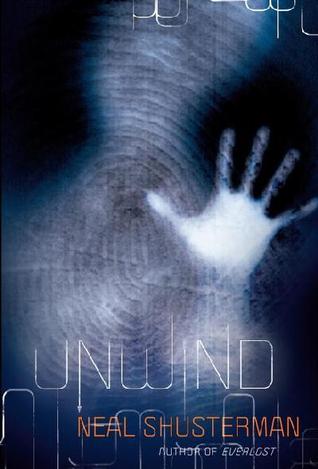 The Second Civil War was fought over reproductive rights. The chilling resolution: Life is inviolable from the moment of conception until age thirteen. Between the ages of thirteen and eighteen, however, parents can have their child "unwound," whereby all of the child's organs are transplanted into different donors, so life doesn't technically end. Connor is too difficult for his parents to control. Risa, a ward of the state, is not enough to be kept alive. And Lev is a tithe, a child conceived and raised to be unwound. Together, they may have a chance to escape and to survive.
This seems insanely interesting. It reminds me a lot of something Margeret Peterson Haddix would have written*, but also with a definite Shusterman flair. I actually own Scythe (though I haven't actually read past Chapter 3 or so… ha… ha), and I'm in love with the writing style. Definite keep.
*Did anyone else read the Shadow Children series, growing up? Among the Hidden? I adored that one.
54. The Library of Fates, by Aditi Khorana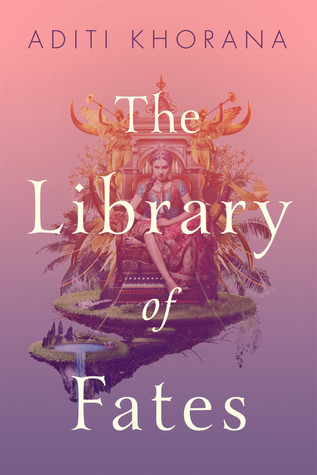 No one is entirely certain what brings the Emperor Sikander to Shalingar. Until now, the idyllic kingdom has been immune to his many violent conquests. To keep the visit friendly, Princess Amrita has offered herself as his bride, sacrificing everything—family, her childhood love, and her freedom—to save her people. But her offer isn't enough.
The palace is soon under siege, and Amrita finds herself a fugitive, utterly alone but for an oracle named Thala, who was kept by Sikander as a slave and managed to escape amid the chaos. With nothing and no one else to turn to, Amrita and Thala are forced to rely on each other. But while Amrita feels responsible for her kingdom and sets out to warn her people, the newly free Thala has no such ties. She encourages Amrita to go on a quest to find the fabled Library of All Things, where it is possible for each of them to reverse their fates. To go back to before Sikander took everything from them.
Stripped of all that she loves, caught between her rosy past and an unknown future, will Amrita be able to restore what was lost, or does another life—and another love—await?
Do I adore books like this? Well, normally. Of course, plotwise I'm horrifically lost, but I actually enjoy flowery descriptions. Now, however, with less time to sit down and do nothing but read/think about whatever it is I'm reading for longer than ten minutes in between various orders of business, this wouldn't work so well. It'll be another temporary taking-off, for now.
---
Three books out of five. I mean, it's not awful- that's sixty percent, right*? PROGRESS, I SAY.
What are you reading this week? Have you taken anything off your TBR lately? Tell me about it! 
*I'm a writer, do I look like someone who can math? If you think I can…
also
so no.
(and no I do not ship, thank you very much)