Having pretty much drank down the entire jar of honey, slept for far longer than I probably should have, and thoroughly turned myself off of mint tea for awhile, I should be coherent enough to write this. Hopefully.
Yep, I've got a cold*.
*though still hoping desperately that it's actually allergies. I hate admitting when I'm sick.
55. In at the Deep End, by W.W. Pierce
When Willa comes home to find a mysterious man at her dining table she discovers something about herself that will change her life forever. In the first of the expansive Divisions series, set in extraordinary worlds all across the universe, this stand-alone novella IN AT THE DEEP END sets the scene for one epic adventure.
This was a free kindle book…. nope nope nope. Doesn't even sound interesting, or up my alley in the slightest.
56. The Irish Cottage: Finding Elizabeth, by Juliet Gauvin
Elizabeth Lara built a perfect life as San Francisco's top divorce attorney, but when she loses her great-aunt Mags, the woman who raised her, she boards a plane and leaves it all behind.
The Irish shores welcome her as she learns a shocking truth, kept secret for thirty-five years. Devastated and now alone in the world, Beth tries to find peace in a beautiful cottage by Lough Rhiannon, but peace isn't what fate had in mind. Almost as soon as she arrives, Beth's solitary retreat into the magic wilds of Ireland is interrupted by Connor Bannon. A man with light brown hair, ice blue eyes and a secret of his own. He's gorgeous, grieving, and completely unexpected.
With the help of Mags' letters, the colorful townspeople of Dingle, and Connor, Elizabeth might just find a way back to the girl she lost long ago and become the woman she always wanted to be.
I might read this when I'm in the mood again, but right now I am very much not. It's also a rarer mood for me, so it'll definitely go off the list.
57. Evernight, by Claudia Gray
Bianca wants to escape.
She's been uprooted from her small hometown and enrolled at Evernight Academy, an eerie Gothic boarding school where the students are somehow too perfect: smart, sleek, and almost predatory. Bianca knows she doesn't fit in.
Then she meets Lucas. He's not the "Evernight type" either, and he likes it that way. Lucas ignores the rules, stands up to the snobs, and warns Bianca to be careful—even when it comes to caring about him.
"I couldn't stand it if they took it out on you," he tells Bianca, "and eventually they would."
But the connection between Bianca and Lucas can't be denied. Bianca will risk anything to be with Lucas, but dark secrets are fated to tear them apart . . . and to make Bianca question everything she's ever believed.
…not entirely happy with the Twilight vibes I'm getting. I did love Gray's Firebird trilogy, but I doubt I'd enjoy this one all that much. Nope.
58. Daughter of Chaos, by Jen McConnel
"You must choose, child. Choose now, and choose once, for once taken, the path becomes your fate." 
Magic is supposed to be easy; there's Black, White, and Green Magic, and once a Witch picks a path, that's really all she has to worry about. But for Darlena Agara, things just keep getting harder. She's torn between her best friend's choice of the Black path, and her on-again, off-again boyfriend's choice of the White path, so she tries to stall, waiting for divine inspiration. Darlena isn't expecting the form it takes, though. Hecate, the goddess of witchcraft, shows up in her living room and pressures her to choose her path, and Lena does something stupid; she declares that she'll be a Red Witch, something that doesn't exist…or does it? 
Now Lena's on the run, struggling to master the forces of chaos she now controls while at the same time staying out of the way of the crazy gods and goddesses who want her to use Red Magic to cause chaos. Turns out, Red Magic is real…and deadly. Will Lena learn enough about her power before it's too late, or will she become a walking disaster? 
Hahahahaha what? I'm not a fan. I'm kind of sick of the witch-school trope, and at this point only if I already adore the author I'll try it. So… no for now.
59. UnEnchanted, by Chanda Hahn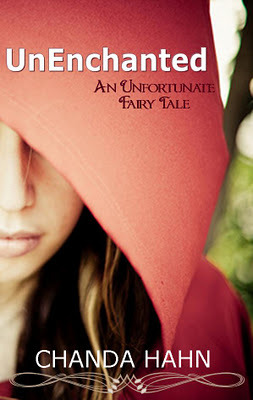 Mina Grime is unlucky, unpopular and uncoordinated; until she saves her crush's life on a field trip, changing her High School status from loser to hero overnight. But with her new found fame brings misfortune in the form of an old family curse come to light. For Mina is descended from the Brothers Grimm and has inherited all of their unfinished fairy tale business. Which includes trying to outwit a powerful Story from making her it's next fairytale victim. 
To break the fairy tale curse on her family and make these deadly occurrences stop, Mina must finish the tales until the very Grimm end.
Ehhhhh nah. I adore fairy tale retellings, but they can really be hit or miss. I'm not going to invest my time in an (ebook) that might not even, judging from the reviews, be that good. No.
---
So this was a 5/5 week.
*dies*
There are apparently 15 Saturdays left this year, let's hope there are more 5/5 weeks in there… seeing as Bookmade will be beginning in 16 (!!!) weeks, I need to get as many books off the Goodreads TBR as possible before then. xD
Hope you're having a good weekend!