So I found the lists for 2019, 2020, and 2021 YA releases and pretty much eliminated the idea of shortening the Goodreads TBR… #sorrynotsorry. At least it'll be full of books I'm actually looking forward to reading, now!
65. Poison's Kiss, by Breeana Shields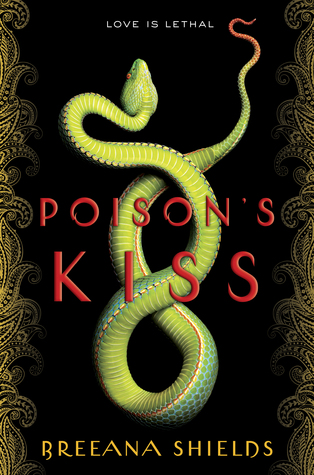 Marinda has kissed dozens of boys. They all die afterward. It's a miserable life, but being a visha kanya, a poison maiden, is what she was created to do. Marinda serves the Raja by dispatching his enemies with only her lips as a weapon.
Until now, the men she was ordered to kiss have been strangers, enemies of the kingdom. Then she receives orders to kiss Deven, a boy she knows too well to be convinced he needs to die. She begins to question who she's really working for. And that is a thread that, once pulled, will unravel more than she can afford to lose.
This rich, surprising, and accessible debut is based on Indian folklore and delivers a story that will keep readers on the edge of their seats. 
Ehhhh… cool concept, but since The Tiger's Curse I've been extra-wary of non-Own Voices culturally-inspired books. A lot of the reviews I've read for this have mentioned this, and therefore it'll be a no.
66. The Wish Granter, by C.J. Redwine
The world has turned upside down for Thad and Ari Glavan, the bastard twins of Súndraille's king. Their mother was murdered. The royal family died mysteriously. And now Thad sits on the throne of a kingdom whose streets are suddenly overrun with violence he can't stop.
Growing up ignored by the nobility, Ari never wanted to be a proper princess. And when Thad suddenly starts training Ari to take his place, she realizes that her brother's ascension to the throne wasn't fate. It was the work of a Wish Granter named Alistair Teague who tricked Thad into wishing away both the safety of his people and his soul in exchange for the crown. 
So Ari recruits the help of Thad's enigmatic new weapons master, Sebastian Vaughn, to teach her how to fight Teague. With secret ties to Teague's criminal empire, Sebastian might just hold the key to discovering Alistair's weaknesses, saving Ari's brother—and herself. 
But Teague is ruthless and more than ready to destroy anyone who dares stand in his way—and now he has his sights set on the princess. And if Ari can't outwit him, she'll lose Sebastian, her brother…and her soul.
My only question would be whether or not I'd need to read the previous books in order to read this one. I didn't actually realize that this was part of a series until someone pointed it out, since the summery makes it sound like a standalone. ANYWAY, Rumpelstiltskin retelling = yes.
67. Carry On, by Rainbow Rowell
Simon Snow is the worst chosen one who's ever been chosen.
That's what his roommate, Baz, says. And Baz might be evil and a vampire and a complete git, but he's probably right.
Half the time, Simon can't even make his wand work, and the other half, he sets something on fire. His mentor's avoiding him, his girlfriend broke up with him, and there's a magic-eating monster running around wearing Simon's face. Baz would be having a field day with all this, if he were here—it's their last year at the Watford School of Magicks, and Simon's infuriating nemesis didn't even bother to show up.
Carry On is a ghost story, a love story, a mystery and a melodrama. It has just as much kissing and talking as you'd expect from a Rainbow Rowell story—but far, far more monsters. 
This is trickier… I started this once and couldn't get into it, but I adore Rainbow Rowell and would really like to try again. I'll keep it on for now, but it could change.
68. Red Rising: Sons of Ares
From the world of the best-selling YA series Red Rising comes a story of love and loss and rage!
In the future, when mankind has spread across the stars, the hierarchy of man is dictated by the color of one's caste. The Golds rule all, but what will happen when one falls for a lowly Red? See how a forbidden love will set the course of events for the future and lead to the formation of the formidable Sons of Ares!
I'm awwwwful with graphic novels. I've tried a few in the past, but unless it's a comic series or an autobiography, I can't get into it. As much as I love Red Rising, I think I'll have to pass this one up for now.
69. A Reaper at the Gates, by Sabaa Tahir
Beyond the Empire and within it, the threat of war looms ever larger. 
The Blood Shrike, Helene Aquilla, is assailed on all sides. Emperor Marcus, haunted by his past, grows increasingly unstable, while the Commandant capitalizes on his madness to bolster her own power. As Helene searches for a way to hold back the approaching darkness, her sister's life and the lives of all those in the Empire hang in the balance.
Far to the east, Laia of Serra knows the fate of the world lies not in the machinations of the Martial court, but in stopping the Nightbringer. But while hunting for a way to bring him down, Laia faces unexpected threats from those she hoped would aid her, and is drawn into a battle she never thought she'd have to fight. 
And in the land between the living and the dead, Elias Veturius has given up his freedom to serve as Soul Catcher. But in doing so, he has vowed himself to an ancient power that will stop at nothing to ensure Elias's devotion—even at the cost of his humanity.
*dies* A thousand times yes. I am such a fangirl for An Ember in the Ashes and A Torch Against the Night, and I can't wait for this one to come out. It releases on my birthday, too, soooo… 😉
---
2/5? I'll need to bring that count up if I want to hit the goal of one hundred books off the list by the end of the year. Whatever happens with this, though, it'll be worth it to have made so much progress and eliminated that which is unnecessary.