Sooo looking ahead at the books I'm going forward, it's a 0/5 day. So.
All of these books not only are books that I'm keeping on the TBR, but also books that happen to be on my most-anticipated list, so perhaps I'll just flail over them collectively? Yes. Flailing shall be at the end.
70. Obsidio, by Amie Kaufman and Jay Kristoff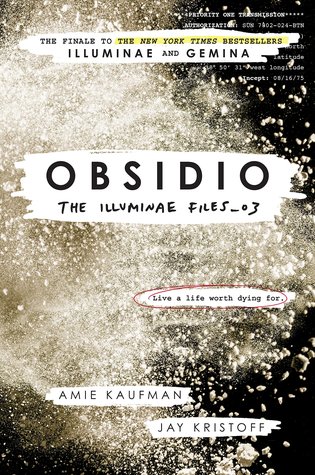 Kady, Ezra, Hanna, and Nik narrowly escaped with their lives from the attacks on Heimdall station and now find themselves crammed with 2,000 refugees on the container ship, Mao. With the jump station destroyed and their resources scarce, the only option is to return to Kerenza—but who knows what they'll find seven months after the invasion? 
Meanwhile, Kady's cousin, Asha, survived the initial BeiTech assault and has joined Kerenza's ragtag underground resistance. When Rhys—an old flame from Asha's past—reappears on Kerenza, the two find themselves on opposite sides of the conflict. 
With time running out, a final battle will be waged on land and in space, heroes will fall, and hearts will be broken.
71. Walk on Earth a Stranger, by Rae Carson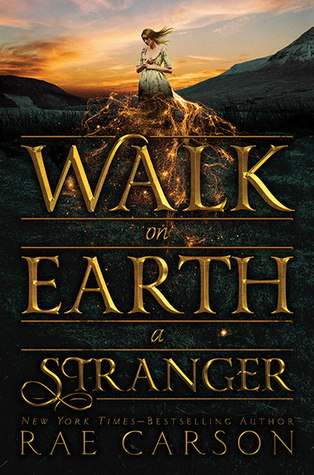 Gold is in my blood, in my breath, even in the flecks in my eyes.
Lee Westfall has a strong, loving family. She has a home she loves and a loyal steed. She has a best friend—who might want to be something more.
She also has a secret.
Lee can sense gold in the world around her. Veins deep in the earth. Small nuggets in a stream. Even gold dust caught underneath a fingernail. She has kept her family safe and able to buy provisions, even through the harshest winters. But what would someone do to control a girl with that kind of power? A person might murder for it.
When everything Lee holds dear is ripped away, she flees west to California—where gold has just been discovered. Perhaps this will be the one place a magical girl can be herself. If she survives the journey.
The acclaimed Rae Carson begins a sweeping new trilogy set in Gold Rush-era America, about a young woman with a powerful and dangerous gift.
72. Red Seas Under Red Skies, by Scott Lynch
After a brutal battle with the underworld that nearly destroyed him, Locke and his trusted sidekick, Jean, fled the island city of their birth and landed on the exotic shores of Tal Verrar to nurse their wounds. But even at this westernmost edge of civilization, they can't rest for long — and are soon back to what they do best: stealing from the undeserving rich and pocketing the proceeds for themselves.
This time, however, they have targeted the grandest prize of all: the Sinspire, the most exclusive and heavily guarded gambling house in the world. Its nine floors attract the wealthiest clientele — and to rise to the top, one must impress with good credit, amusing behavior… and excruciatingly impeccable play. For there is one cardinal rule, enforced by Requin, the house's cold-blooded master: it is death to cheat at any game at the Sinspire.
Brazenly undeterred, Locke and Jean have orchestrated an elaborate plan to lie, trick, and swindle their way up the nine floors… straight to Requin's teeming vault. Under the cloak of false identities, they meticulously make their climb — until they are closer to the spoils than ever.
But someone in Tal Verrar has uncovered the duo's secret. Someone from their past who has every intention of making the impudent criminals pay for their sins. Now it will take every ounce of cunning to save their mercenary souls. And even that may not be enough…
73. Iron Gold, by Pierce Brown
Honor and betrayal fuel a caste-shattering revolution in the action-packed new novel from the #1 New York Times bestselling author of the Red Rising Trilogy. Ten years after the events of Morning Star, Darrow and the Rising are battling the remaining Gold loyalist forces and are closer than ever to abolishing the color-coded caste system of Society for good. But new foes will emerge from the shadows to threaten the imperfect victory Darrow and his friends have earned. Pierce Brown expands the size and scope of his impressive Red Rising universe with new characters, enemies, and conflicts among the stars.
74. This Adventure Ends, by Emma Mills
Sloane isn't expecting to fall in with a group of friends when she moves from New York to Florida—especially not a group of friends so intense, so in love, so all-consuming. Yet that's exactly what happens.
Sloane becomes closest to Vera, a social-media star who lights up any room, and Gabe, Vera's twin brother and the most serious person Sloane's ever met. When a beloved painting by the twins' late mother goes missing, Sloane takes on the responsibility of tracking it down, a journey that takes her across state lines—and ever deeper into the twins' lives.
Filled with intense and important friendships, a wonderful warts-and-all family, shiveringly good romantic developments, and sharp, witty dialogue, this story is about finding the people you never knew you needed.
---
*fangirling immensely*
To go down the list:
I've already preordered Obsidio. So. It comes out in March, and I'm dying- need more AIDAN asap (and Ezra, and Kady, and Nik, and Hanna. Yep. And these… Asha and Rhys people sound interesting, too).
I've had Walk on Earth a Stranger on my shelf for about a yearish, and it'd be nice to get to it soon- I normally adore historical fantasies, so let's hope this one follows the pattern!

*cough*ADSOM*cough*
no that's not a high standard to live up to, what are you talking about?

I've been recovering from The Lies of Locke Lamora, but I should be ready for Red Seas by now. Think Six of Crows, but NA and Kaz is on… I don't know what, exactly. Not entirely sure if I want to…

Lots of sass! Heists! Running into walls! A+ group dynamics! *sobbing faintly*

It's also been a long time since I read Red Rising, but to this day it remains one of my favorite sci-fi books. I need more Darrow in my life, so… January. January.
I have heard next to nothing about This Adventure Ends, but it sounds adorable and I need more adorable contemporary on my list. Some may disagree, but one can't read sci-fi and fantasy exclusively, especially if it falls into the category of… um, most of the books on this list.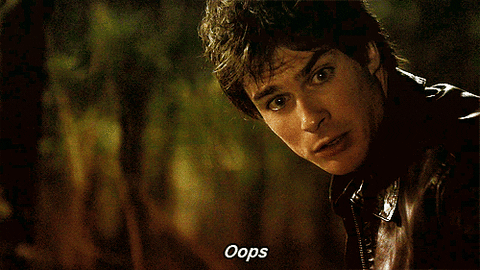 ---
What are you reading this week? How is it? Let me know in the comments!